Duon
Jellyfish Pokémon

Basic Info

Type
Water
Abilities
Effect Spore
Evolves From
None
Evolves Into
Darison

Additional Info

Held Items
Green Shard
Egg Groups
Water 3
Hatching Time
~5355 steps
Catch Rate
255
Gender Ratio
50% male
Height
0.4 m
Weight
0.2 kg
Leveling Rate
Medium-Slow
Base XP Yield
59
EV Yields
+1 HP
Pokédex Color
Blue
Duon is a Water-type Pokémon. It evolves into Darison starting at level 20, which evolves into Meduzoa when exposed to a Water Stone.
Pokédex entry
Edit
As DUON live in the deeper and darker areas of the ocean, they communicate by flashing brightly. Being very weak and fragile, they travel in huge packs for protection.
Base stats
Edit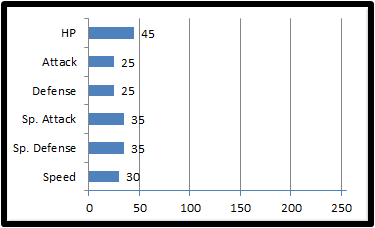 Base Stat Total: 195
Game locations
Edit
Almost every ocean route, mainly by fishing.
Type effectiveness
Edit
Damaged normally by:
Weak to:
Immune to:
Resistant to:

Normal

Fighting

Flying

Poison

Ground

Rock

Bug

Ghost

Psychic

Dragon

Dark

Fairy

Cosmic

Digital

Grass

Electric

None

Steel

Fire

Water

Ice
Learnset

Edit
Bold indicates a move that will receive STAB when used by Duon.
Italic indicates a move that will receive STAB when used by an evolution of Duon.
Moves by leveling up

| Level | Move |
| --- | --- |
| 1 | Splash |
| 15 | Flail |
Moves by TM/HM

| TM/HM | Move |
| --- | --- |
| TM03 | Water Pulse |
| TM06 | Toxic |
| TM10 | Hidden Power |
| TM18 | Rain Dance |
| TM21 | Frustration |
| TM27 | Return |
| TM36 | Sludge Bomb |
| TM44 | Rest |
| TM45 | Attract |
| | |
Moves by breeding
Move
Supersonic
Amnesia
Wrap
Poison Sting
Acid Armor
Acid
BubbleBeam
Ad blocker interference detected!
Wikia is a free-to-use site that makes money from advertising. We have a modified experience for viewers using ad blockers

Wikia is not accessible if you've made further modifications. Remove the custom ad blocker rule(s) and the page will load as expected.