Lucon
Dreaming Pokémon

Basic Info

Type
Psychic
Abilities
Truant
Evolves From
None
Evolves Into
O'Neiron

Additional Info

Held Items
None
Egg Groups
Can't breed
Hatching Time
~2805 steps
Catch Rate
195
Gender Ratio
50% male
Height
0.4 m
Weight
1.2 kg
Leveling Rate
Medium-Fast
Base XP Yield
80
EV Yields
+1 Sp. Defense
Pokédex Color
Pink
Lucon is a Psychic-type baby Pokémon. It evolves into O'Neiron starting at level 15, which evolves into Phanach starting at level 37.
Pokédex entry
Edit
LUCON is almost always sleeping, although sometimes it will startle and awaken, as if it had a bad dream. This, some believe, is caused by it seeing the future in its dreams.
Base stats
Edit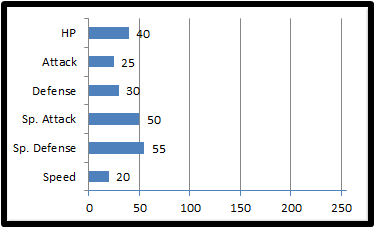 Base Stat Total: 220
Game locations
Edit
Type effectiveness
Edit
Damaged normally by:
Weak to:
Immune to:
Resistant to:

Normal

Flying

Poison

Ground

Rock

Steel

Fire

Water

Grass

Electric

Ice

Dragon

Fairy

Bug

Ghost

Dark

Digital

Cosmic

Fighting

Psychic
Learnset

Edit
Bold indicates a move that will receive STAB when used by Lucon.
Italic indicates a move that will receive STAB when used by an evolution of Lucon.
Moves by leveling up

| Level | Move |
| --- | --- |
| 1 | Rest |
| 8 | Snore |
| 12 | Amnesia |
| 19 | Yawn |
Moves by TM/HM

| TM/HM | Move |
| --- | --- |
| TM04 | Calm Mind |
| TM10 | Hidden Power |
| TM21 | Frustration |
| TM27 | Return |
| TM29 | Psychic |
| TM30 | Shadow Ball |
| TM44 | Rest |
| TM48 | Moonblast |
Moves by breeding
Move
Agility
Baton Pass
Mind Reader
Wish
Nightmare
Ad blocker interference detected!
Wikia is a free-to-use site that makes money from advertising. We have a modified experience for viewers using ad blockers

Wikia is not accessible if you've made further modifications. Remove the custom ad blocker rule(s) and the page will load as expected.