Metron
Bullet Pokémon

Basic Info

Type
Steel/Dark
Abilities
Battle Armor

Rock Head

Evolves From
Tynet
Evolves Into
Patros

Additional Info

Held Items
Metal Coat
Egg Groups
Mineral
Hatching Time
-
Catch Rate
90
Gender Ratio
65% male
Height
1.6 m
Weight
198 kg
Leveling Rate
Slow
Base XP Yield
152
EV Yields
+2 Defense
Pokédex Color
Gray
Metron is a dual-typed Steel/Dark Pokémon. It evolves from Tynet starting at level 30 and evolves into Patros starting at level 50.
Pokédex entry
Edit
METRON live in packs along with their pre-evolved form in urban areas. They are mostly active at night, where they can roam the city more or less unseen.
Base stats
Edit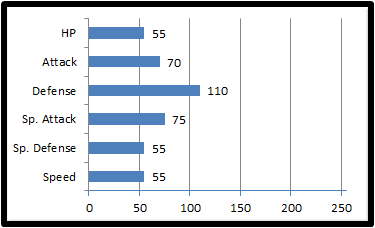 Base Stat Total: 420
Game locations
Edit
Evolve Tynet.
Later caverns, eg. Victory Road (?)
Type effectiveness
Edit
Damaged normally by:
Weak to:
Immune to:
Resistant to:

Bug

Water

Electric

Fairy

Fighting

Ground

Fire

Digital

Poison

Psychic

Normal

Flying

Rock

Steel

Grass

Ice

Dragon

Cosmic
Learnset

Edit
Bold indicates a move that will receive STAB when used by Metron.
Italic indicates a move that will receive STAB when used by an evolution of Metron.
Moves by leveling up

| Level | Move |
| --- | --- |
| 1 | Headbutt |
| 1 | Take Down |
| 1 | Feint Attack |
| 1 | Iron Defense |
| 30 | Bite |
| 34 | Metal Claw |
| 39 | Metal Sound |
| 44 | Crunch |
| 49 | Double-Edge |
| 54 | Memento |
Moves by TM/HM

| TM/HM | Move |
| --- | --- |
| TM03 | Water Pulse |
| TM04 | Calm Mind |
| TM05 | Roar |
| TM09 | Glitter Beam |
| TM10 | Hidden Power |
| TM12 | Taunt |
| TM13 | Ice Beam |
| TM17 | Protect |
| TM21 | Frustration |
| TM22 | SolarBeam |
| TM24 | Thunderbolt |
| TM27 | Return |
| TM30 | Shadow Ball |
| TM32 | Double Team |
| TM34 | Shock Wave |
| TM35 | Flamethrower |
| TM37 | Sandstorm |
| TM38 | Fire Blast |
| TM39 | Rock Tomb |
| TM41 | Torment |
| TM42 | Facade |
| TM43 | Secret Power |
| TM44 | Rest |
| TM46 | Thief |
| TM49 | Crunch |
| TM50 | Overheat |
| HM04 | Strength |
| HM06 | Rock Smash |