Morteak
Withered Pokémon

Basic Info

Type
Grass/Ghost
Abilities
Intimidate

Shadow Tag

Evolves From
Budora
Evolves Into
Skeleteak

Additional Info

Held Items
None
Egg Groups
Plant

Amorphous

Hatching Time
-
Catch Rate
120
Gender Ratio
50% male
Height
1 m
Weight
18.5 kg
Leveling Rate
Medium-Fast
Base XP Yield
151
EV Yields
+1 Attack

+1 Defense

Pokédex Color
Brown
Morteak is a dual-typed Grass/Ghost Pokémon. It evolves from Budora when leveled up with high friendship during the night and evolves into Skeleteak when exposed to a Moon Stone.
Pokédex entry
Edit
These POKéMON become active at night. Just before dawn, they bury themselves neck-deep in soil, where they absorb nutrients from the ground through their bodies and dew from the air through their antlers.
Base stats
Edit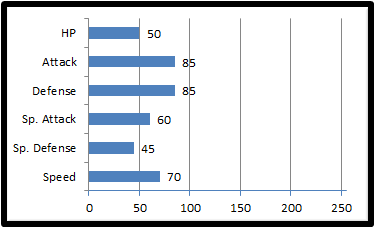 Base Stat Total: 395
Game locations
Edit
Type effectiveness
Edit
Damaged normally by:
Weak to:
Immune to:
Resistant to:

Rock

Steel

Psychic

Dragon

Fairy

Poison

Bug

Flying

Fire

Ice

Cosmic

Ghost

Dark

Normal

Fighting

Ground

Water

Grass

Electric

Digital
Learnset

Edit
Bold indicates a move that will receive STAB when used by Morteak.
Italic indicates a move that will receive STAB when used by an evolution of Morteak.
Moves by leveling up

| Level | Move |
| --- | --- |
| 1 | Absorb |
| 5 | Growl |
| 7 | Stun Spore |
| 10 | Scratch |
| 11 | Sleep Powder |
| 15 | PoisonPowder |
| 19 | Leech Seed |
| 23 | Destiny Bond |
| 26 | Razor Leaf |
| 31 | Thief |
| 35 | Slash |
| 39 | Shadow Punch |
| 44 | Scary Face |
| 49 | Shadow Ball |
| 53 | Disable |
| 62 | Frenzy Plant |
Moves by TM/HM

| TM/HM | Move |
| --- | --- |
| TM04 | Calm Mind |
| TM06 | Toxic |
| TM08 | Bulk Up |
| TM10 | Hidden Power |
| TM12 | Taunt |
| TM17 | Protect |
| TM18 | Rain Dance |
| TM19 | Giga Drain |
| TM21 | Frustration |
| TM22 | SolarBeam |
| TM27 | Return |
| TM28 | Dig |
| TM29 | Psychic |
| TM30 | Shadow Ball |
| TM32 | Double Team |
| TM36 | Sludge Bomb |
| TM41 | Torment |
| TM42 | Facade |
| TM43 | Secret Power |
| TM44 | Rest |
| TM45 | Attract |
| TM46 | Thief |
| TM48 | Moonblast |
| TM49 | Crunch |
| HM01 | Razor Chop |