Neurazie
Heat Pokémon

Basic Info

Type
Fire/Psychic
Abilities
Blaze

Pressure

Evolves From
Flazurn
Evolves Into
None

Additional Info

Held Items
Charcoal
Egg Groups
Fairy

Human-Like

Hatching Time
-
Catch Rate
45
Gender Ratio
50% male
Height
1.9 m
Weight
84.5 kg
Leveling Rate
Medium-Slow
Base XP Yield
193
EV Yields
+1 HP

+1 Sp. Attack_ +1 Sp. Defense

Pokédex Color
Brown
Neurazie is a dual-typed Fire/Psychic Pokémon. It evolves from Flazurn depending on its personality value, starting at level 32. It is one of the final forms of Flazie, the other being Martiazie.
Pokédex entry
Edit
NEURAZIE have the ability to seize control over an open fire and make it do its biddings. When exhausted, it will extinguish its moustache-like flames in order to conserve energy.
Base stats
Edit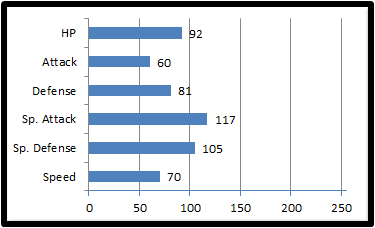 Base Stat Total: 525
Game locations
Edit
Type effectiveness
Edit
Damaged normally by:
Weak to:
Immune to:
Resistant to:

Normal

Flying

Poison

Bug

Electric

Dragon

Ground

Rock

Ghost

Water

Dark

Digital

Cosmic

Fighting

Steel

Fire

Grass

Psychic

Ice

Fairy
Learnset

Edit
Bold indicates a move that will receive STAB when used by Neurazie.
Italic indicates a move that will receive STAB when used by an evolution of Neurazie.
Moves by leveling up

| Level | Move |
| --- | --- |
| 1 | Bide |
| 7 | Ember |
| 10 | Tackle |
| 14 | Growl |
| 18 | Fire Punch |
| 23 | Sunny Day |
| 28 | Detect |
| 32 | Trick |
| 36 | Cosmic Power |
| 40 | Flame Wheel |
| 45 | Psybeam |
| 51 | Psychic |
| 59 | Heat Wave |
Moves by TM/HM

| TM/HM | Move |
| --- | --- |
| TM01 | Focus Punch |
| TM04 | Calm Mind |
| TM08 | Bulk Up |
| TM09 | Glitter Beam |
| TM10 | Hidden Power |
| TM11 | Sunny Day |
| TM12 | Taunt |
| TM15 | Hyper Beam |
| TM16 | Light Screen |
| TM17 | Protect |
| TM20 | Safeguard |
| TM21 | Frustration |
| TM27 | Return |
| TM29 | Psychic |
| TM30 | Shadow Ball |
| TM31 | Brick Break |
| TM32 | Double Team |
| TM33 | Reflect |
| TM35 | Flamethrower |
| TM38 | Fire Blast |
| TM41 | Torment |
| TM42 | Facade |
| TM43 | Secret Power |
| TM44 | Rest |
| TM45 | Attract |
| TM46 | Thief |
| TM48 | Moonblast |
| TM50 | Overheat |
| HM04 | Strength |
| HM06 | Rock Smash |